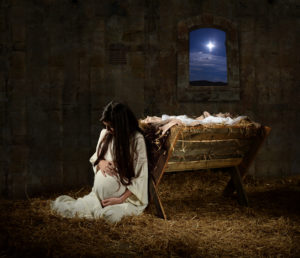 At this time of year, we're reminded of Mary and what some might call an "unplanned pregnancy." In truth, Mary's pregnancy was the most planned of all time. God foretold this pregnancy through Old testament prophets, even telling us this Child would be born in Bethlehem.
The challenge however, was shifting Mary's thinking from the natural "How can this be, for I am a virgin?" to the supernatural "be it done to me according to your word".
For those of us at Pathway to Hope we rarely deal with planned pregnancies like Mary's. We do have opportunities to help shift the thinking of those we see. Those who come in our door often see their babies as anything from an inconvenience to an unfathomable crisis which must be stopped in its tracks.
In a time of confusion and pain, we understand the fear. We understand the desire to get out of what might appear to be a hopeless situation. Even in fear, we help our Moms take a step back and see how God can work…and there is hope. When there is hope, there is always a path to joy. The advocates at Pathway share that God is still at work when we mistakenly toss aside the storybook of our lives. God places His arm around us, He places the book back in our laps and says; "Let's do this together. There is a new chapter to be written and you'll smile again as the story unfolds."
What we do may not be as miraculous as Mary's situation, but just like Mary, our families need a change of thinking, from fear filled, to hope filled.
You can be a part of this. With your willingness to step into this world, as many who walk in our door will leave with a new perspective and a new way of thinking.
As we close 2018, we are thankful for you joining us in making a real difference! We celebrate all that God has done through Pathway's partners and we are excited to see His story unfolds within our new center on Monument.
As of today, we are$20,000away from having all the finishing touches on our building paid for. Will you join us as we rally together, preparing for the great things God has in store for our new Center and new Services for our community.
Please donate here orvisit our website at supportpathway.com.
Thank you in advance for adding your name to those giving special year-end gifts. "In everything I did, I showed you that by this kind of hard work we must help the weak, remembering the words the Lord Jesus himself said: 'It is more blessed to give than to receive.'" Acts 20:35
Here's to a great 2019, one with more hope, more joy, and new stories waiting to be written.