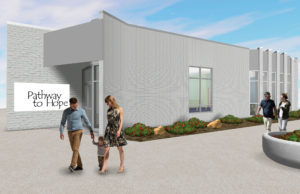 In the last 18 months Pathway to Hope has witnessed God's amazing grace and love. With great excitement, the "due date" of opening our new center at 202 S Monument Ave is November 5-9th, 2018. The finishing touches and final preparations are being completed to transform our building into the warm and inviting place for our community to come for help and hope. What was initially thought to take 3-5 years to renovate our new center has been accomplished in less than 2…all honor & glory given to our Savior!
As we prepare for this day, I humbly come to you… asking you to Join Us. Our two remaining needs are treasure & time, with the greatest of these being the gift of time.
We will be holding Hands Providing Hope Recruitment Open Houses:
August 25th (Sat) 9a-1p and September 7th (Fri) 2-6p
More information on the volunteer positions can be found under the Be A LifeSaver tab on our website. The open house will be held at our new center at 202 S Monument Ave, Hamilton serving as an introduction to Pathway to Hope and the role of a volunteer.
In addition to the Recruitment Open Houses we are also coordinating Service Days to help us paint the outside of our building and refurbish some donated office furniture. Those dates are:
August 24th (Fri) 9a-1p and September 8th (Sat) 9-1p
If there are questions or concerns regarding these dates, please direct them to me(lhaskell@pathwaytohopepcc.org) or Christine(info@pathwaytohopepcc.org) at (513)895-2229.
Stay tuned for more information on our Grand Opening in November!
Thank you so very much to each of you who have come along side us through this labor of love. Together we are so much stronger as we go ALL-IN for life. Building a culture of life so strong that abortion becomes unthinkable in our community is our calling…and we ask for you to JOIN US.
WITH YOU FOR LIFE, Lori Haskell, Executive Director
Pathway to Hope has been called to save the lives of the unborn by reaching young women and men in an unexpected pregnancy and providing them with the necessary education and support to choose life. We promote the Sanctity of Life through the gospel of Jesus Christ. We aim to become a refuge for young women and men faced with an unplanned pregnancy, meeting their needs and inspiring a vision for their future. Our Mission is about changing hearts to save lives, building families and creating a culture of life so strong that abortion becomes unthinkable, regardless of its legality…it is to this end that we work and we fight.